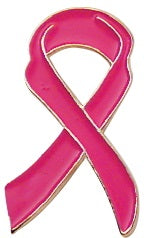 P-110 Pink Ribbon Lapel Pin, -Minimum 25pcs.-
Pink Ribbon Lapel Pin, 1", soft enamel, gold outline, standard clutch. There are so many great causes for the ribbons. Choose your cause and show your support.
*Minimum order 25pcs.
*Minimum order of 25pcs. can be ordered through the website.
Please contact us for quotes and to order larger quantity . Please email or call.
Please include product #, quantity, shipping and billing address. For larger orders you will be billed by secure email invoice that accepts most major credit/debit cards.
Free shipping on orders over $300.00.
---
More from this collection